I know I am a bit late but never mind! This recipe was born as I was contemplating what might make a romantic meal for Valentines day…the usual things sprung to mind: oysters, fillet steak, lobster, caviar, champagne. All of which seemed somewhat clichéd and also expensive!
It occurred to me that duck hearts, (popular here in the land of all things duck), might be fun, if a little cannibalistic on a day meant for cuddly fluffy things. But once the idea presented itself to me, I could not escape it.
I know many of you will automatically recoil at the idea of eating hearts, but I must tell you that duck hearts are surprisingly delicious! They do not taste particularly offaly, but rather more just like meaty little ducky chunks.
Typically they are served cooked in plenty of garlic and parsley, sometimes grilled on a skewer – 'a la brochette'. They are inexpensive, I was able to buy a little bag containing 8 good sized hearts, plenty for two people, for under two Euros.
I wanted to make something that had the elegance that a Valentines dish demands whilst using what is in effect, a rustic and modest ingredient. So, in keeping with the Gascon approach, I pan fried the hearts with garlic and parsley and nestled them gently atop a bed of creamy soft parmesan risotto.
I was very happy with the results! Not only did they look pretty darn good, the whole thing tasted wonderful and sumptuous. And to top it all off, unbelievably, my five year old daughter tried it and loved it and is now requesting duck hearts for dinner daily. (Meanwhile my three your old stomps around demanding Foie Gras!) Clearly my children are happily Gersois at heart!
Ducks Hearts with Garlic & Parsley & Parmesan Risotto
(Serves 2)
1 onion, finely chopped
25g butter
1 clove of garlic, minced
4 handfuls of risotto rice (I had no scales so measured by hand!)
1 litre chicken stock
150g grated Parmesan
1 tbsp olive oil
250g duck hearts
2 cloves of garlic, chopped
large handful of chopped flat leaf parsely
Start by getting your risotto on. I took no photos of the making of this as I figured you all know how! Melt your butter in a pan and add the onion and sweat it gently for 5 minutes. Add the garlic and cook for 2 minutes. Throw in your risotto rice and coat with the butter and let it heat through for a minute of two. Then start adding ladles of your hot chicken stock, stirring and letting each addition of stock bubble and soak into the rice before adding more until all the stock is added.
Meanwhile, prepare your duck hearts by trimming off and fatty bits. Slice each heart in half lengthways.
When your risotto is almost ready with just a ladle of stock to add, you can cook your hearts as they don't take very long. Heat the olive oil in a frying pan until nice and hot and then throw in the hearts. Let them cook and get some colour for 3 minutes each side. Then throw in the garlic and the parsely and toss the whole lot around for another 2 minutes, being careful not to let the garlic burn.
To finish your risotto, add the grated parmesan and season and let it sit, off the heat for a couple of minutes to relax. Serve the duck hearts nestled on a bed of the risotto.
I am entering this recipe into a few blogging challenges. Firstly, the Cheese Please! Challenge hosted by Fromage Homage where the theme this month is Cheesy Romance so my risotto element fits the bill.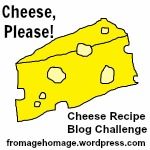 Secondly, the Cooking With Herbs Challenge as hosted by Karen over at Lavender & Lovage as this recipe uses lots of lovely fresh parsley.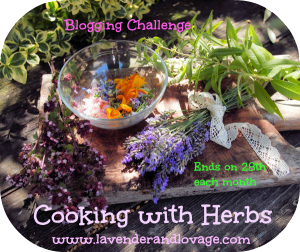 Also, the Family Foodies Challenge where the theme this month is Love. Hosted alternate months by Louisa from Eat Your Veg and Vanesther from Bangers & Mash. Against all the odds, this was a recipe my daughter LOVED!!
And as duck hearts are so surprisingly affordable, I am also entering this into Credit Crunch Munch hosted this month by Angela from My Golden Pear who is holding the fort for Camilla (Fab Food For All) and Helen (Fuss Free Flavours).
And last but not least, my very own Four Seasons Food Challenge where the theme is Food from the Heart. I am hosting this month but next month it will be Louisa from Eat Your Veg.