It feels as though I have been cooking a lot of really epic meaty meals lately. Sweetbreads, Oxtail, Beef Cheeks…all completely delicious but quite laborious in execution. I thought I might try to mix things up a bit and make something more straightforward but of course still a bit special.
And what is more straightforward than a sandwich? Or to be clearer, an open-faced sandwich known as a 'Tartine' here in France. I saw some on a menu at a local bistro recently and they really inspired me. With creative toppings, served hot, dripping with some sort of oozy melty cheese and served with frites and salad, they can make a very desirable plate of food.
So, my task was to make a sandwich fit for a mouthwatering main course meal. Something that would not look out of place on a bistro menu, something that screams 'French chic'. A slice of bread worthy of the rather elegant title of 'tartine'.
Being a bit of goats cheese addict, I knew I wanted to use generous slices on my tartine. I also went with some thin cut streaky bacon and lashings of slow cooked red onions with a touch of balsamic. And I decadently topped the whole lot with some reduced cream, shallots and chives which glazed the whole thing beautifully.
Served alongside some oven roasted duck fat frites that are so crunchy and delicious they may make you giddy, and a lightly dressed salad, I think I managed to create a plate of food that ticked the 'mouthwatering' box! It certainly took the idea of a sandwich to a new executive level for me.
So, my advice is this, get creative with your sandwiches. Stop thinking in terms of two bits of limp bread and dull fillings. Open it up, smother it with something decadent and serve it hot, a la Français. That is how you make a sandwich sexy.
Tartine aux Bacon, Chèvre et Oignons Rouges
(Serves 2)
3 red onions
1 tbsp olive oil
2 tbsp balsamic vinegar
2 large potatoes
1 1/2 tbsp duck fat
6 rashers of thin cut streaky bacon
1 tbsp olive oil
2 shallots, finely chopped
100ml double cream
small bunch of chives, snipped
10 slices of goats cheese
8-10 inches of ciabatta, cut in half (or use a large slice of crusty bread)
Salad to serve, dressed in a good vinaigrette
Start by prepping your onions. I cut mine into chunks through the root so that they hold together when cooking which I think helps them not to cook too quickly.
Heat your olive oil in a pan over a medium heat and add your onions and season. Keep the heat quite low and stir now and again and cook for 30 minutes. Then add your balsamic vinegar and cook for a further 5 minutes. Once cooked, you can set them aside until you assemble your tartine.
To make your duck fat frites, heat your oven to 180Fan/200C. Peel and cut your potatoes into uniform chips, quite thin. Take an oven tray, add your duck fat and pop it in the oven to heat up. Once melted and hot, take out the tray and add your potato frites and toss to coat in the fat. Season with salt. Place in the oven for 20 minutes. Then take out and turn your chips over and cook for another 20 minutes. You may need to shake them about a bit during this last 20 minutes to ensure an even crisp golden finish.
Meanwhile, you can cook your bacon until nice and golden and crispy. YUM.
And the final element to prepare is the cream glaze. Heat your final tbsp of olive oil in a pan and add your shallots and cook for 3 minutes until softened. Then add your cream and let that bubble away and reduce by half. This will make it thick and saucy. Once reduced, take off the heat and snip in your chives. Set aside.
And now assemble. Take your slices of ciabatta, drizzle the cut side with a little olive oil and pop under the grill for 4 minutes or until just toasting. Then take out and divide the onions on to the bread. Lay your bacon on top. Then lay the slices of goats cheese on top. Take half the cream mix and spread over the goats cheese. Repeat with the other tartine. Place under a medium grill for 6-8 minutes, until the cream starts to colour and bubble.
Once golden, put everything on your plate and dig in with a sharp knife.
I am entering this special sandwich in to some blogging challenges. Firstly, I think this can go into Helen & Camilla's Credit Crunch Munch as having a sandwich for dinner is pretty thrifty! This month it is being hosted by Sarah from Dinner With Crayons.
And also, I am entering this into #FridayFoodie for the very first time. Hosted by the lovely Otilia from Romanian Mum Blog The theme for this week is 'cheese' so my Tartine fits the bill nicely.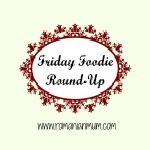 And finally, I think I can also pop this onto Karen from Lavender & Lovage's Cooking With Herbs challenge too.