Here in Gascony, they like their food robust and hearty. No nonsense nourishing dishes are quite typical. The origins of the cuisine come from the peasant farmers who lived off the land, eating seasonally and needing plenty of big bold dishes to fuel them.
During the Autumn and Winter months, I find that I crave these filling, restorative dishes also. Who can resist a steaming bowl of Garbure, brimming with duck, beans and packed with veggies? Or a rich, boozy Bourginon? Or a generous comforting Cassoulet? I know you know what I am talking about.
Taking my inspiration from these kinds of gutsy dishes, I decided to use some beef cheeks to make a rustic lentil stew, something similar to a Petit Salé aux Lentilles which would typically be made with salted pork belly.
It's simple food, cooked in one pot, packed with vegetables, chunks of meat and substantial lentils. It feels old fashioned, traditional and befitting of my farmhouse kitchen. It is a dish that feels right for a cold grey Sunday; it wants to nurture and soothe you. This dish is like a trusty old friend.
With carrots, onions and celery as a base, I also decided to include chunks of beetroot which worked beautifully with the beefy cheeks and added sweetness. Infused with all the herbiness of a bouquet garni, cooked slowly with plenty of white wine and garlic, the smell that engulfed my kitchen was downright incredible.
This is real food. This dish is big, confident and brazenly humble. This is for days when you need to be fed. Pure and simple and honest…(and of course it's unquestionably delicious!)
French Style Beef Cheeks & Lentils
(Serves 4)
750g Beef cheeks, cut into 8 chunks
1 tbsp olive oil
100ml white wine
1 bay leaf
4 sprigs of thyme
1 tbsp duck fat
4 thick slices of pork belly, cut in half
2 small onions, chopped
2 carrots, chopped
2 sticks of celery, chopped
4 cloves of garlic, finely chopped
300ml water
1 bouquet garni 
roughly 1/2 a bottle of white wine
1 raw beetroot, peeled and chopped in to 2cm chunks
300g green lentils
1 can of chopped tomatoes
300ml chicken stock
chopped parsley for garnish
First, prepare your cheeks. Remove any sinew you can and cut them into 8 chunks. Place them in a dish and pour over the olive oil and 100ml of white wine along with lots of salt and pepper, the bay leaf and the thyme. Pop them in the fridge to marinade for at least 1 hour or over night.
Heat your oven to 160Fan/180C. In an oven proof casserole pot, heat the duck fat and begin by frying your pork belly. Once sealed, remove and set aside. Then brown the cheeks until coloured on all sides, reserve the marinade. Remove and set aside with the pork belly.
Throw in your onions, carrots and celery and garlic and fry for 5 minutes to soften.
Add the reserved marinade and herbs. Add the water and bouquet garni. Add the cheeks and pork belly and top up with white wine to cover. Bring to a simmer, cover and place in the oven for 2 hours.
Meanwhile, after 1 hour of cooking, place your chunks of beetroot in a small oven proof dish and drizzle with a little olive oil and season. Roast in the oven for 1 hour.
When the cheeks have been in the oven for 2 hours, take them out and add the lentils and beetroot to the pot and stir well. Add some extra water if it looks a bit too dry. Place back in the oven for 30 minutes.
After 30 minutes, remove from the oven and place on the hob. Add the can of chopped tomatoes and the chicken stock and let it simmer for 10-15 minutes so that it becomes like an oozy sauce.
Finally, chop your parsley to sprinkle over the top when you serve it in big bowls.
I am entering this dish into this months Four Seasons Food Challenge which I co host. Louisa has the reigns for November though where the theme is Soups Stews & One Pot Wonders.
Four Seasons Food hosted by Delicieux and Eat Your Veg
Also, I am popping it into Karen from Lavender & Lovage's Cooking With Herbs Challenge.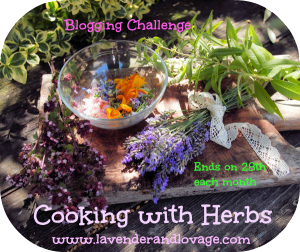 And finally, I am also putting this into Recipe of the Week hosted by Emily over at A Mummy Too.