I love a good quiche. I always think of it as a British thing, you know how it goes: a slice of quiche on a sunny day, perfect for picnics and lazy lunches in the garden with a fresh green salad and maybe a little coleslaw if you were feeling flash. But to my horror, I have had this notion that we invented the quiche destroyed.
Wonder of all wonders, the humble quiche is French! But I guess you all knew that and it was only me who naively associated it with tea parties and British Summers. I feel deceived…
But who am I to complain? After all I live in France and love all things French, so I guess I should not be surprised. So on to the reasons why j'adore la quiche:
First of all, a quiche tastes great hot or cold. The combination of pastry, eggs and cheese which are all 3 imperative ingredients, taste equally good straight out of the oven as they does out of the fridge although the texture changes somewhat.
A quiche is a crowd pleaser. It can happily feed up to 12 if sliced thinly as part of a buffet, or will fill up 4 greedy gannets also.
There are so many ways to fill a quiche! I love the versatility. Be it vegetarian, meat or fish, the possibilities are endless. If all you have in the house are some frozen peas and some left over cheese, voila!, you have a quiche filling.
Quiche are pretty! Golden on top and moist and colourful within.
They are easy to make and often you find you have left overs so they stretch for more than one meal.
On the whole, they are inexpensive to make. Obviously if you fill yours with fresh organic salmon, the price will rise, but basic eggs, cheese and bacon for example, provide a great value for money dish.
Need I go on? I think I have made my point.
So I decided to make a quiche that I could not confuse as British. Obviously being a big promoter of Gascon cuisine and the produce of this region, it had to contain duck. In particular gesiers – those funny little nuggets of moist rich duckyness that taste so good. (I know that they are not easily available in the UK so I would suggest using cooked shredded duck leg meat instead)
Quiche Gascogne – duck, lardons, leeks, a smear of wholegrain mustard and gruyere cheese – mais oui, it needed nothing else and tasted truly French and delicieux.
Quiche Gascogne
Serves 8
1 x short crust pastry
1 x tin of gesiers, sliced (or use shredded duck leg meat)
2 x leeks, thinly sliced
1 x 200g smoked lardons
1 tsp of fresh thyme leaves
1 x heaped tbsp of wholegrain mustard
3 x large eggs
284ml double cream
50g grated gruyere cheese
Start by blind baking your pastry. I often use shop bought pastry as it saves time and I find it to be good quality on the whole. Butter a tart case then lay in the pastry, fork the base a few times, then cover with the baking paper it was rolled in and pour in some baking beans. Cook for 15 minutes at 180 Fan / 200 C. Then remove the tart, take out the baking beans and throw away the baking paper and return to the oven for around 7 minutes.
Meanwhile, in a large frying pan, with a little olive oil, start frying your lardons. Once almost cooked, add your gesiers and fry for 5 minutes. Remove and set aside. In the same pan, you can now fry your leeks with fresh thyme leaves for around 10 minutes until soft..
Once the tart case is blind baked, you can spread the base with the wholegrain mustard. Stir the lardons and gesiers into the cooked leeks and then pour the whole lot into the tart case.
In a jug, measure your cream and beat in the eggs. Seasons and pour gently over the tart and make sure to over all the filling. Then top with grated cheese and bake for 30 minutes until golden. Slice and serve with salad.
I'm adding this recipe to a couple of challenged. Namely Cooking With Herbs hosted by Karen over on Lavender & Lovage as this contains ever reliable fresh thyme from my garden!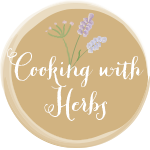 And also into #Reciepoftheweek hosted by Emily over on A Mummy Too.