The last recipe I posted was on May 28th so I must apologise for having disappeared off the face of the earth! It was not my intention to be away for so long but life has been crazy lately and I just have not had a minute spare.
So where have I been and what have I been doing? Well, I have been working….and I mean a lot. I became manager of a medieval village here in Gascony just before Christmas and when the Summer season hit, it swallowed me up whole.
I have just finished seven weeks of back to back weddings and seminars. I have had the privilege of watching some
wonderful people get married and I have met some amazing and colourful characters along the way.
Not only that but I have fed them! So although I have not posted any recipes on the blog, I have been cooking for 90 people at a time which is most definitely challenging and fairly exhausting!
I did mean to take photos of the various meals and buffets that I have been doing but in the heat of service, I mostly forgot and when I remembered, there was very little food left! 90 people decimate buffets in seconds you know…
But I did catch a few to give you some idea.
Anyway, I am very happy to have managed to find some time to cook something just for the blog. I was inspired by these little pastries that I kept seeing here called 'Chaussons' which translate as socks! Typically filled with apples, they are like turnovers.
Such a simple idea, reminiscent of a sweet cornish pasty I guess. And so why not make a savoury Chausson and make it as French as possible by stuffing it with snails. (The idea of a Chausson aux Exscargots or a Snail Sock tickles me!)
A super speedy dish, this made for a lovely lunch or could be miniaturized for a starter. I am always looking for ways to play with ingredients that seem to only get served one way. So rather than just serving snails dripping in garlic butter (although they are pretty darn good like that), why not try this instead.
Chaussons aux Escargots (Snail Pasty)
Serves 2
1 pack of puff pastry
1 tbsp olive oil
1 onion, chopped
6 button mushrooms, sliced
1 can of 2 dozen snails
4 tbsp of garlic and herb cream cheese
2 handfuls of gruyere cheese
1 egg, beaten for egg washing the pastry
In a frying pan, heat your olive oil and gently fry your onion for 5 minutes until soft. Then add your mushrooms and fry for a few more minutes until cooked through. Drain your snails and add them to the pan and heat them through also.
Then add your garlic and herb cream cheese and let it melt into a sauce. Remove from the heat and add the gruyere cheese and mix.
I used a medium sized saucer to cut out two circles from my puff pastry. Cover a baking tray with foil and brush with a little oil to stop the chausson from sticking. Then place as much filling as you can on one half of your pastry circles. Fold the pastry over to cover and fold the edges over to seal. Repeat with your second pastry circle.
Place on the baking tray and brush with egg wash. Cook in the oven for 30 minutes at 180Fan/200C until golden. Serve with salad.
I am entering this recipe into a few challenges. First of all, Four Seasons Food hosted this month by Louisa from Eat Your Veg and alternative months by me. The theme is Al Fresco and this was a supper I enjoyed outside and a Chausson would also make an easily portable outdoor dish.
Then I would like to enter it into #Recipeoftheweek hosted by Emily over on A Mummy Too.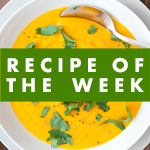 And finally, #FridayFoodie hosted by Otilia over on Romanian Mum Blog.