Last week it felt like Summer was dragging it's feet and Autumn was only just peeking through. Fast forward seven days and I am wearing my slippers and we are lighting our first fire of the year! (it's not really cold enough yet but it feels like the right thing to do when having a lazy, cosy weekend)
And as promised in my last post, I am going to share one last courgette recipe as I have sadly reached the bottom of my pile of them in the kitchen. This years glut was short lived and a little meagre if truth be told. And so it was enjoyed all the more for it's skimpiness!
There is one recipe which I always make when in the throws of the glut and this year is no exception. I usually follow this fantastic recipe for Courgette Lasagne from the BBC Good Food website. It's a really good one for using up lots of lovely courgettes but I do find that it needs a fair amount of salt and benefits from the addition of feta. It's a great vegetarian crowd pleaser.
So, as I set about making it for supper, I thought that I might try to shake it up a bit. I had a salmon fillet in the freezer which needed using up; in itself insufficient for a complete meal, but incorporated into this lasagne, it stretched to feed a family of four generously!
I also made my own version of the tomato sauce using a few fresh tomatoes from the garden, a little cream and a dash of sherry which works so well with the salmon. The resulting dish was seriously good; creamy, comforting and delicious, everything a good lasagne should be!
It was a fitting send off for our courgettes. I bid them a fond farewell and look forward to working with them again next year…
Salmon & Courgette Lasagne
(Serves 4-6)
700g courgettes, grated
1 tbsp table salt
1 tbsp olive oil
1 large onion, chopped
3 cloves of garlic, minced
220g salmon fillet, skinned and cut into chunks
250g Ricotta
50g grated cheddar, plus extra for topping
a handful of chopped chives
6-8 sheets of fresh lasagne
1 tbsp butter
2 shallots, finely chopped
4 small tomatoes, chopped
2 tbsp flour
175ml tomato juice
120ml milk
2 tbsp sherry
a dash of cream
Start by grating your courgettes, then place them in a colander sitting over a bowl, stir in the table salt and leave them for 30 minutes to extract as much green juice as you can. See how much came out of mine:
Pre-heat your oven to 220C/200Fan. In a large frying pan, heat the olive oil and fry your onion and garlic for 3 minutes, then add your salmon chunks and cook for 2 minutes. Add your grated courgettes and cook for a further 2 minutes. Then add 2/3's of the ricotta and the cheddar cheese, season well and stir through the chives. Remove from the heat.
Now make the tomato sauce. Melt the butter in a small pan and gently sweat the shallots in it. Throw in your tomatoes and let them soften into the butter.
Stir in your flour and slowly add the tomato juice and milk stirring all the while as it thickens. This will take about 10 minutes. Once you have a nice thick sauce, stir in the sherry and the dash of cream and season.
Assemble your lasagne by layering half the courgette and salmon mixture at the base of an oven proof dish. Top with fresh lasagne sheets. Then spread half the tomato sauce over the lasagne and repeat the layers finishing with tomato sauce. Blob over the last of the ricotta and sprinkle over some grated cheese.
Bake in the oven for just 10 minutes until the cheese is golden on the top.
(ps – it tasted much better than it looks in this photo!)
I am entering this lovely lasagne into a few blogging challenges. First off, one I have not entered for a little while so I am pleased to return to Cooking With Herbs, hosted by lovely Karen from Lavender & Lovage.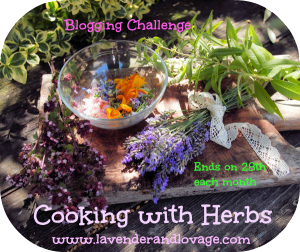 Also, as I used up the lone salmon fillet from my freezer and the last of my courgette glut, I think this qualifies for Kate from Turquoise Lemons No Waste Food Challenge hosted by Elizabeth from Elizabeth's Kitchen Diary this month.
And finally, this is my second entry into Four Seasons Food, hosted by myself this month with the theme of 'Sliding In To Autumn'
Four Seasons Food hosted by Delicieux and Eat Your Veg