I love a little nibble, a canapé, an amuse-bouche….whatever you want to call it! A bite sized savoury treat to munch on before a main meal, something tasty to accompany an aperitif, to wet your appetite for more.
And is there a better time than Christmas to roll out the nibbles? When meals are at their most decadent and indulgent? We always have 3 or 4 canapés for Christmas day which get passed around whilst we open presents. After all, we graze all day long at Christmas. It would seem wrong not to have a drink in one hand and something to eat in another.
And what better way to pre-empt a traditional Christmas dinner than with an old school sausage roll! So I took this idea and thought I would tszuj it up a bit, add a little surprise to elevate the humble sausage roll into a fitting festive treat.
I had some fantastic black pudding left from my lovely local farmer friends at Enjouanisson, really rich and peppery. I mixed that up with some herby Toulouse sausage meat and I rolled that around a little sprinkled layer of chopped apple, encased the whole lot in puff pastry and 'voila!', I made a special Christmassy sausage roll!
These mini morsels are completely addictive. The black pudding adds a wonderful depth of flavour whilst the little nuggets of apple give juicy bursts of sweetness. They are moist, soft and totally delicious. They
should come with a little warning so you don't over indulge and ruin your appetite for the main meal!
And if this recipe is not tempting enough for you, I also have a giveaway of some indulgent Hotel Chocolat Christmas Selection treats! To enter, just follow the instructions on the Rafflecopter widget at the end of this post. The competition will close on 23rd December and is open to UK residents only. Good luck and happy scoffing this Christmas!
Black Pudding & Apple Sausage Rolls
(Made 16 sausage rolls)
240g sausage meat (I used Toulouse sausages)
200g black pudding
1 small apple. peeled, cored and finely diced
1 egg
1 pack of puff pastry
Pre-heat your oven to 180Fan/200C. Put your sausage meat in a bowl. Then peel your black pudding and add that to the bowl too. Using your hands, just get stuck in and squish it all together until well mixed.
Peel, core and chop your apple.
Divide your meat in two. Take half and roll into a long sausage and press it down until it is flat and wide using your fingers. Then sprinkle in a line of apple dice as below.
Fold the meat over the apple and try to enclose it as much as you can. This does not have to be perfect as it will taste good even if it is not quite in the middle.
Trim your puff pastry to create two long strips. Place one sausage onto each piece of pastry. Crack your egg into a bowl whisk it up. Brush one long edge with egg and close the pastry around the sausage and the egg wash will help to seal it.
Then cut the pastry into mini size sausage rolls. Place on an oiled oven tray. Brush each one with egg. Place in the oven for 30 minutes until lovely and golden.
Hotel Chocolat Giveaway Rafflecopter
I am entering these sausage rolls into a few blogging challenges. First of all, Four Seasons Food for December which I am hosting this month (alternately with Louisa from Eat Your Veg), where the theme is 'Party Food' so these will do nicely!
Also into #FridayFoodie hosted by the lovely Otilia from Romanian Mum Blog where the theme is also Christmas & Celebration Food.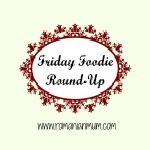 And finally, I will pop them onto Recipe Of The Week hosted by Emily from A Mummy Too.